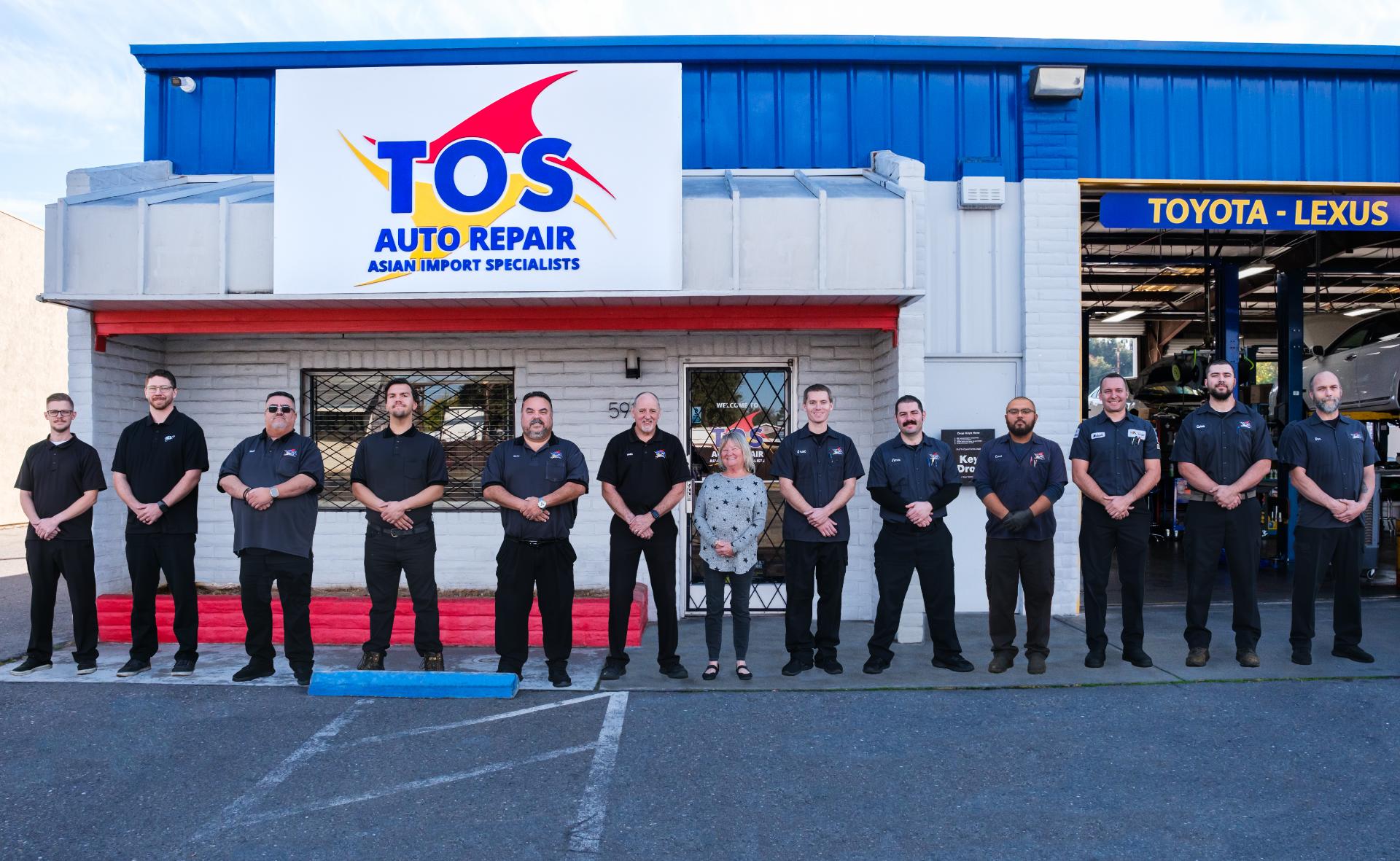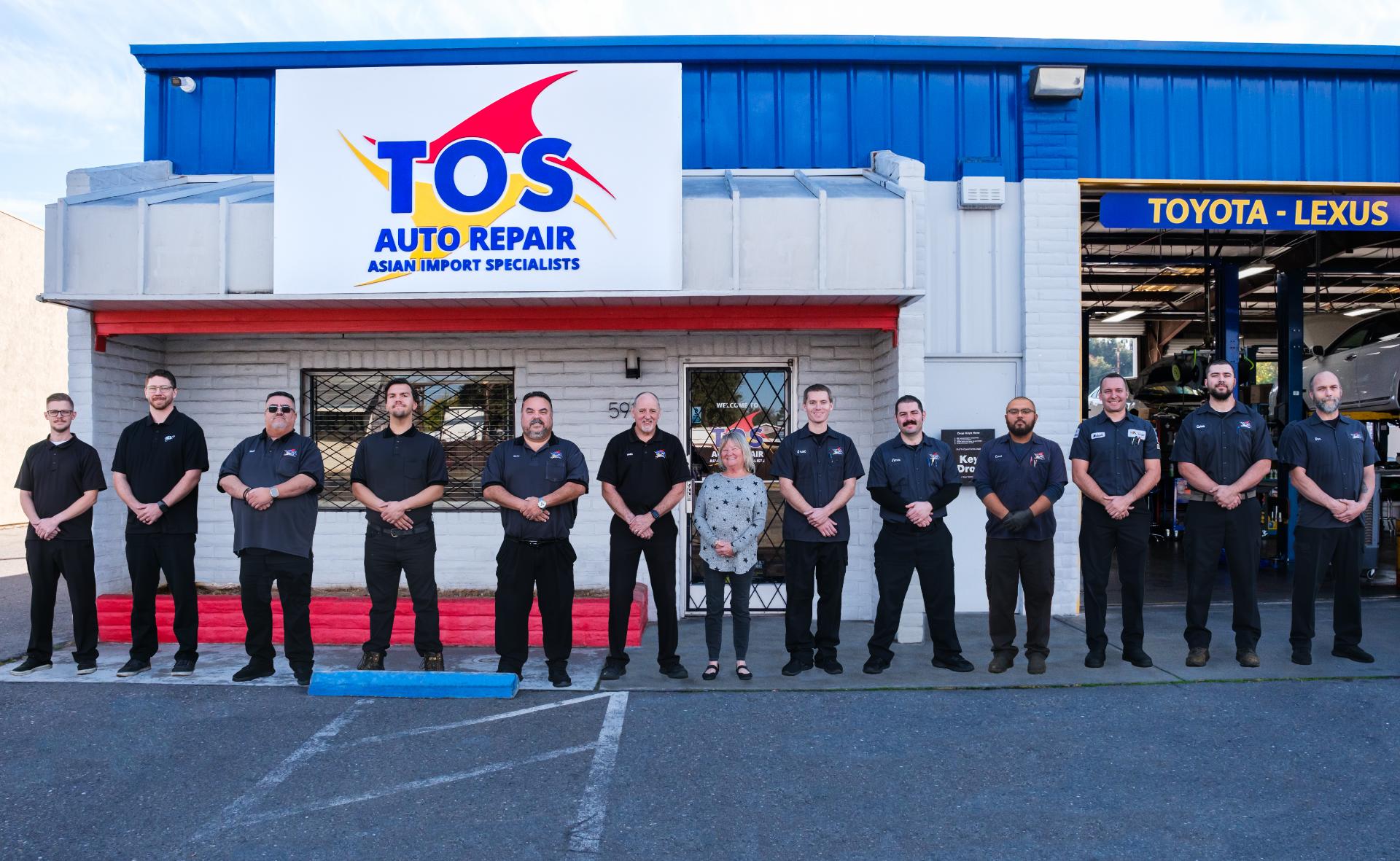 THE ONLY PLACE TO GO FOR YOUR AUTO REPAIR NEEDS SINCE 1985 IN SACRAMENTO AND SURROUNDING AREAS!
Here at TOS Auto Repair, we've been building a solid auto repair business in the Sacramento & Citrus Heights area since 1985. The ASE-Certified auto mechanics who service your vehicles take great pride in educating you, our friends and clients, as well as themselves. Our many five-star reviews reflect the care we put into every repair or service. You can rest easy knowing that our auto repair technicians are honest, fair, and reliable.
Commitment to Customer Satisfaction
Because our auto mechanics care about your family and their safety, we bring many benefits to you that you won't find at many other shops. We have a courtesy shuttle because we respect your time. If you do decide to wait, there's a super-comfy waiting room that includes free WiFi, couches, chairs, TV, many snacks, and a Keurig coffee maker. We even have a massage chair (you might not want to leave!). TOS Auto Repair specializes in asian auto repair and service, servicing Toyota, Honda, Acura, Infiniti, Hyundai, Kia, Lexus, Mazda, Nissan, Prius and Subaru. We have factory scan tools so we can properly diagnose and service your vehicles. We only use high-quality parts and that's why we can offer a three year 36,000 mile warranty. Our warranty is a 3-year/36,000-mile WorldPac plus self-warranty, which means it's a nationwide warranty. We also offer roadside assistance for up to one year from your last visit with up to $75 reimbursement in case something happens outside the Sacramento & Citrus Heights area. Any repair over $25 includes this!
A True Alternative to the Dealer
Looking for an affordable alternative to the high prices at your local dealership? TOS Auto Repair can help. Supported by a team of ASE-Certified technicians who receive ongoing training in automotive technology and auto repair services, we can offer you dealership-quality knowledge and experience without dealership prices. If you're in Citrus Heights, or surrounding areas like Fair Oaks, California, or [city 5], stop by and experience the TOS Auto Repair difference. One of our passions here at TOS Auto Repair is education. That's why our auto repair technicians are continually improving their knowledge base. All our service advisors and technicians are ASE-Certified. Three of them are masters, and the others are taking classes to become master technicians. We're affiliated with the Better Business Bureau (with an A+ rating), are a AAA-certified shop, and are Star-certified for California smog testing, which means we not only test but can fix your car in case it fails the smog test.
Cutting-Edge Technology in Citrus Heights to Keep You Moving
At TOS Auto Repair, we want our friends and clients in Sacramento & Citrus Heights to experience our digital inspections, which are already receiving rave reviews! Our digital inspections give you color-coded priorities (red, yellow, or green). All our service advisors have double screens so they can go through the inspections with you. We can send pictures in text messages or email for your convenience. The pictures allow you to see exactly what's going on.
Contact Us We're Here to Help!
We invite you to give us a call at 916-348-1696 or to take a look around our website and learn more about what we do. Read the testimonials and reviews from some of our happy customers, or find out more information on our specialties. Call or email us to inquire about how we can help with your specific automobile concern. And if you're in the Citrus Heights or Sacramento area, feel free to stop by the shop and say hello, even if you aren't currently in need of auto repair or maintenance services. We'd be delighted to introduce ourselves, show you around the facility, and answer any questions about our business and our services.